Field Stories
We benefited from the service of project itself and the money we gained from our work in it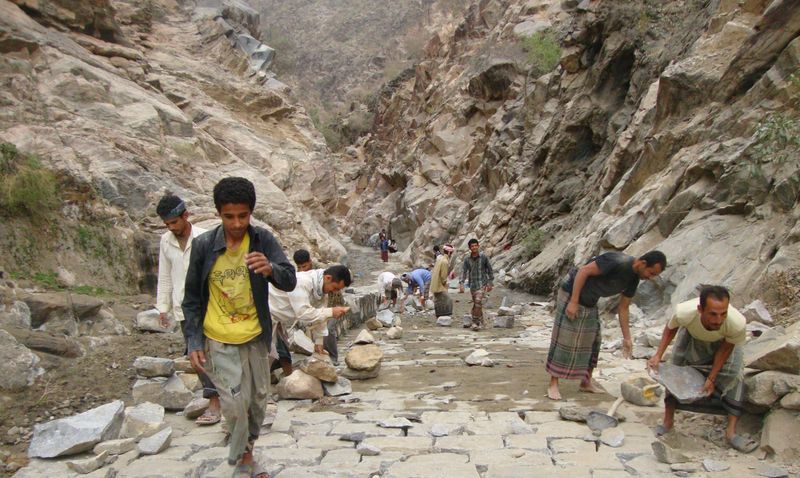 In Gabal Al-Siyadah Village (Al-Aqhoz Sub-district, Maqbanah District, Taiz governorate) the major source of income is agriculture, followed by construction using mud and stones. The SFD has begun implementing a project to rehabilitate and improve the road that links the village to the city and to construct retaining walls.
The beneficiary Ali Abdul-Rakeeb (50 years, illiterate, married) said that the community selected this as its priority project need among several options offered by the Social Fund.
He confirmed that the project "came at the right time", especially during the 2011 events when there was no work at all. During those events, he said, those who were working in the city returned to their villages, and remained there without work.
"In our village, people have benefited from the project, and worked to implement and complete it – irrespective of the country's precarious conditions."
He added that his work on the project made use of his long-time professional experience as a master builder. "I put stone in the road," he said.
As for the benefits of the project, he confirmed that before working on the project he had to buy wheat from the grocery store on credit. "But, thanks to SFD-supported project, we used the money to buy wheat, cereals, sugar, tea, cooking oil and vegetables such as potatoes, tomatoes, pepper (chili) and clothes – in particular, Eid clothes…"
"Actually, I'm also able to pay off my debts".
He underscored that all of the villagers benefitted greatly from the project, saying, "First, from the services provided by the project itself, and secondly from the money we earned from our work in it".
In response to a question about the specific benefits of the project itself, Ali concluded that the rural road is in fact a lifeline and a source of income, crucial to the quality of life in the village.
"The road facilitated a lot of things for us, such as reducing the time it took to drive from the village to the city from 2 hours to just half an hour."