Field Stories
Supported by her Community, Nisreen Continues to Improve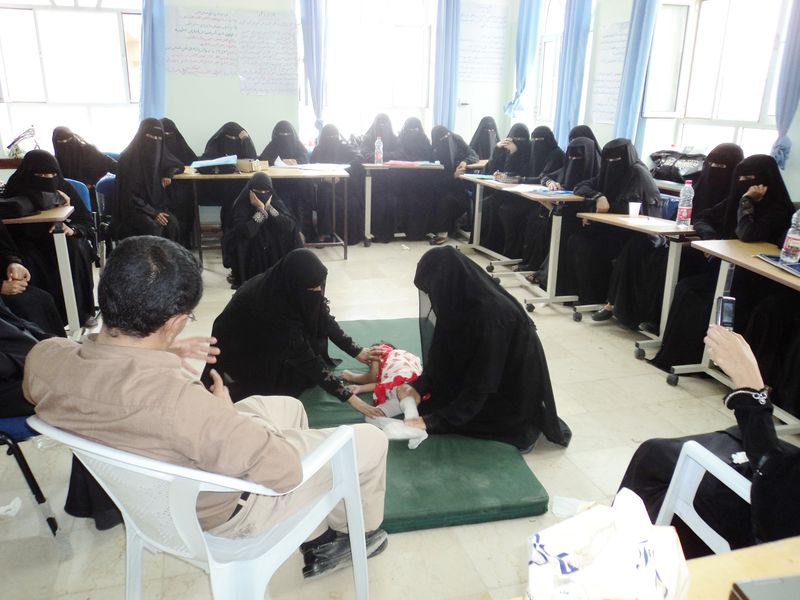 The SFD established the Community-Based Rehabilitation (CBR) Program in Al-Qaeda City (Ibb Governorate) by setting up a community committee to administer the project and build its institutional and technical capacities to support PwDs.
It also provided the project center with furniture and necessary equipment, and conducted a survey to determine the number of persons with disabilities in the city. Through the CBR program, the SFD also trained 24 young men and women from the community in survey administration, physical therapy, and early detection of disabilities. The 24 trainees will be responsible for providing home rehabilitation visits for children, tailored to each child's specific needs. The program funded household visits for 110 children with disabilities, ranging from one month to 10 years of age. The home visitors also worked to educate families about physical therapy exercises that may help their children. The therapy sessions have brought about a noticeable improvement in the condition of the participating children.
Nisreen (a 14-month-old female) is one of the beneficiaries who took part in 25 physiotherapy sessions. As Nisreen's grandmother explained to an SFD team: "Nisreen was just a mass of meat that could not move. She could not move her head and could barely eat and drink. When the rehabilitation worker visited us and started helping her to exercise, Nisreen started moving her head to the left and to the right. We felt she has improved much, praise be to God."